'Let's Do This' Campaign Launches with Recognition Awards for Long Standing Supporters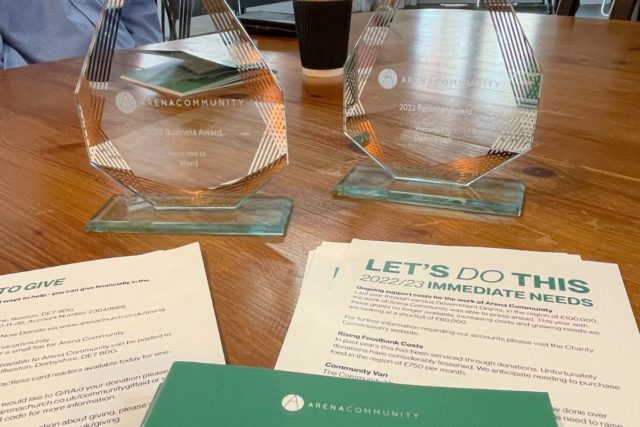 Arena Community, part of the Arena Church, launched its latest community campaign at a celebration event in September at The Project, Ilkeston – recognising the efforts of its support network with its first awards.
Arena Community was established in 2006 as a local response to poverty, isolation, homelessness and unemployment in and around Ilkeston, Derbyshire and Mansfield and Nottinghamshire. Last year, the charity helped over 5,000 people through several initiatives focused on making communities liveable by providing food and practical resources, quality housing via supported accommodation, training, education and rehabilitation. 
The charity was drastically impacted by the Covid pandemic, with its shops shut and more members of the community than ever reliant on its vital support. This led to the launch of the Let's Do This' campaign, which aims to tackle a £60,000 shortfall in running costs by encouraging local businesses and the public to commit to monthly donations.
The awards ceremony, which took place at Arena's The Project in Ilkeston, was held to celebrate, honour and thank all the organisations and individuals who had stepped up to support fundraising efforts to date and also to raise awareness of the existing need for ongoing support to continue its essential work in the community. 
Following an inspirational address from Kristian Thorpe, Leader Pastor and Founder of Arena Community and passionate speeches from the head of the local school and community workers from Age UK and other support organisations, Arena presented it first ever awards. 
In recognition of the firm's support of the charity and its endeavours, Ward was awarded two honours. 
Dennis Bell, Commercial Director at Ward, was recognised with an Individual Contribution award while Ward was honoured with the Business Contribution award, collected by family member, Karen Ward, for its decade-long support of the charity. 
In addition to making monthly donations to the food bank, personally from Dennis, during its ten years of backing, Ward has helped to fund a new minibus and contributed to the sensory garden development project, amongst other important initiatives.
Dennis said:
"We are a family firm and have strong family values. To be able to help people in a vulnerable position is doing something positive for the community and we will continue to support them in any way we can."
Lisa Harrison, Head of Arena Community, received an Outstanding Service award for her huge contribution to the charity. Having experienced many of the challenges facing the local community herself, Lisa has become an invaluable member of the organisation. As well as running the repair shop, overseeing employment schemes and project managing the major refurbishment of the Project store in Ilkeston, Lisa has also helped to generate revenue through the charity's shops and cafes. 
Kristian Thorpe, Leader Pastor and Founder of Arena Community, said:
"Everybody is somebody at Arena. We place value on every person and will always seek to strengthen, support, hold, help and lift people up. 
The celebration event and awards was a way of us saying thank you to the people and organisations that help us to reach our goals through their generosity of funds, time, support and compassion."
For more information on how you can get involved in supporting the vital work of the Arena Community, visit www.arenacommunity.co.uk/giving/